I spent eight years in Catholic school wearing a uniform. I don't remember it being bad except for the skirt that did not include matching shorts. Some argue that forcing kids to wear uniforms crushes their personal expression. I didn't find this to be true. Wearing a uniform allowed me to find creative ways to tweak my look and saved me the angst of choosing a new outfit each day.
Uniforms are one of man's greatest inventions. How would we ever find help in Target if it wasn't for the red shirt and khaki pants? Who doesn't love when the UPS guy in his brown shorts and shirt arrives at your front door with a package? Don't you already start to feel better when you spot the white coat of your doctor walking into the examining room?
In addition to letting you know what job someone does, wearing a uniform can save you time, money and help to cultivate your image. Steve Jobs wore a black turtleneck, jeans, and sneakers, Albert Einstein wore a gray suit with no socks, and Hillary Clinton wears a pantsuit with a long jacket, which is a great choice for a post-menopausal woman. Regardless of your politics you have to admit that she looks elegant and professional whenever she is out in public.
In a recent article, "The Case For Uniform Dressing," in The Wall Street Journal, Christina Binkley points out the benefits of wearing a "uniform" in a work environment. She claims that when you adopt a uniform style, you can shop in bulk and dress faster in the mornings. While your co-workers always notice that you are dressed nicely they don't necessarily notice what you wear each day.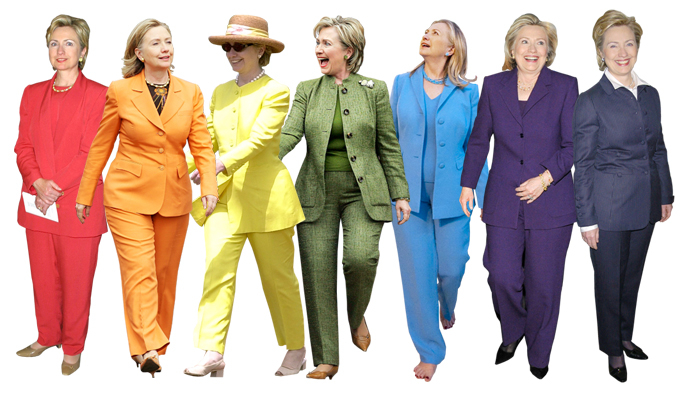 I've experimented with my own personal uniform in recent years. I spent two years wearing pink every day. It was fun and I felt like a million bucks but I found myself getting caught up in searching for accessories and combing through clothing racks for pink outfits. I've now transitioned to a more simple and conventional uniform. It is based on the notion that once you hit menopause you can start wearing maternity clothes again. No one looks at an over-fifty woman and thinks she's pregnant.
In the summer I wear loose, flowing tops, over shorts or Capris with FitFLops. Once winter comes, you'll see me in leggings, boots and a long-sleeved tunic and sweater. Dressing in this prescribed manner is quick and easy and I always look put together.
I find that wearing a uniform allows me to buy less clothing but still look nice, which is good for my wallet and the environment. We currently live in a disposable clothing society with retailers like H&M and Forever 21 creating cheap garments that are meant to be washed only ten times before being discarded. How many of you have $10 shirts, with the tags still on, hanging in your closets? The manufacture of clothing requires toxic dyes, chemicals and cheap labor in poor countries.
There is currently a movement in the fashion world to bring attention to the environmental and humanitarian impact of the disposable fashion industry. Two artists, Maura Brewer and Abigail Glaum-Lathbury created The Rational Dress Society and have been protesting at New York Fashion Week and other venues. They've also created a line of uniforms under the JUMPSUIT label to combat this waste by wearing and inviting the rest of us to wear these uniforms. What will you get out of wearing a uniform? More time, more money and more room in your closet!
Do you wear a uniform? Are you contemplating creating a uniform for yourself? I'd love to hear! Email me at kathleen.thometz@doodleartanddesign.net
Save